Uses & Tips
X-14® is The Bathroom Expert® – and we have lots of tips and tricks to share. Whether you're looking for better ways to deep-clean or just some hints to make quick touch-up cleaning easier, X-14 has got you covered.

The X-14 Deep Clean line was designed with serious cleanings in mind. These top-performing products are powerful and very effective. The X-14 Deep Clean products are: X-14 Bathroom Cleaner, X-14 Foaming Bathroom Cleaner and X-14 Mildew Stain Remover. On the lighter side, try X-14 Daily Shower Cleaner and the X-14 Automatic Toilet Bowl Cleaners.

Deep Cleaning Uses and Tips
Quick Cleaning Uses and Tips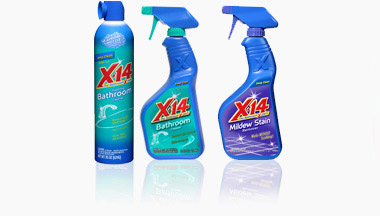 Mildew Stains
Mildew stains are very common bathroom problems. After all, where there's heat and moisture, there can be mildew stains! Try X-14 Mildew Stain Remover – it's an extra-strong product - and be amazed at the difference.

TIP 1: Always open a window or use a vent fan when using X-14 Mildew Stain Remover. It's always best to have fresh air when working with any cleaning product, and ours is stronger than most. If you cannot ventilate the room and are sensitive to sodium hypochlorite, we recommend you avoid the use of this product.

TIP 2: Don't let the Mildew Stain Remover sit too long on a porcelain tub, as it can cause rust stains. But the good news is that, even if this happens, a little calcium & rust remover or liquid heavy-duty cleanser will take care of that problem easily.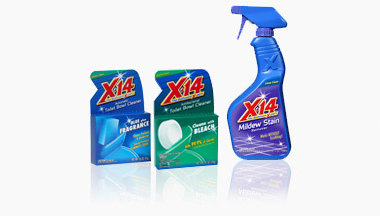 Keeping It Clean
Sounds obvious we know, but a little every day can go a long way between deep bathroom cleanings.

Keeping Your Shower Ship-Shape
Nothing's worse than a shower you don't want to step into – or let anyone see! And everyone has to deep-clean their shower sometime. But after your next deep clean, try X-14 Daily Shower Cleaner—with a quick spray after each shower use, you'll be amazed at how clean things stay (and for how long).

Yes, we've tested it on most common bathroom surfaces including ceramic tile, fiberglass, aluminum, stainless steel, chrome, glass, varnished wood, polystyrene, clear acrylic, latex caulk, silicone caulks, tile grout, plastic shower curtain and rubber and found it to be safe and reliable. (We do not recommend use on brass or natural marble, however.)

Your Toilet and You
Speaking of things no one really likes to clean . . . now X-14 can help keep your toilet fresh and sanitary between regular cleanings. Our tip for keeping things sparkling is to add an X-14 Automatic Bowl Cleaner (with or without Bleach) or Blue plus Fragrance into the tank of your toilet – and let it do the work for you by eliminating odors and freshening with every flush.

Having people over? Try Blue Plus Fragrance – this new special formula leaves a fresh fragrance throughout the bathroom for the ultimate good guest experience.